So, are you decided to build a deck in Dayton? The deck will be the most elegant choice for enjoying with friends and family or on a lonely moonlight night. It will make your home more classy and comfortable. But you have a lot of options to pick the best material and design. It depends on your budget and choices of which deck will fit your home more.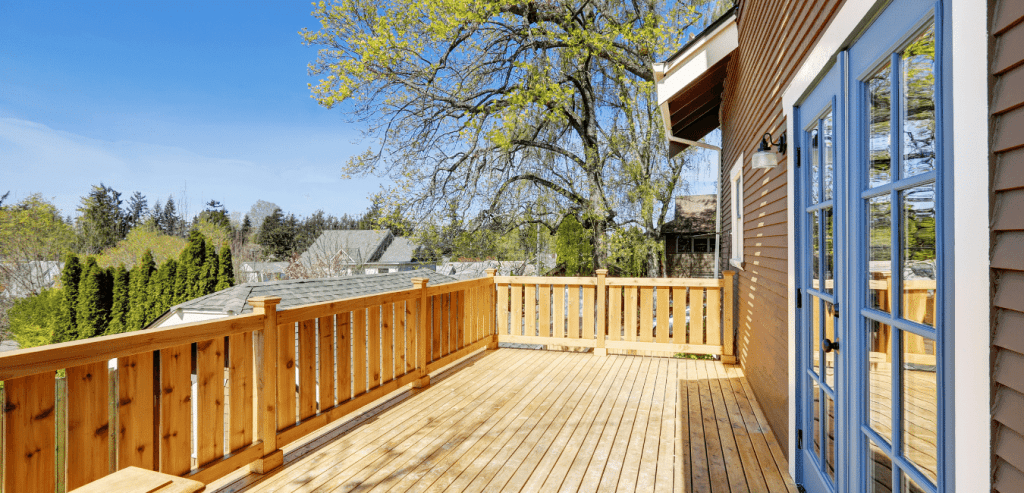 Cost of deck In Dayton

We found four kinds of decking systems. Their cost is a little bit different, and also their features are. So here is the total cost at a glance. We have written details about deck cost in the Dayton OH area.
Composite deck- Most Expensive

The composite material is a mix of wood and plastic. For these three materials, it gives a maintenance-free advantage. Also, it has some bonding agents. By seeing the pic of the composite deck do not think it looks like a plastic deck. No, it is more authentic and classy if you compare it with the plastic deck. But yes, it is expensive.
Suppose we said the average cost of composite decking, you have to expend $30-$60 per square foot. It is a little bit more pricey than a wood deck but gives such an authentic look.
On the other hand, the cost will be less if you take a natural composite deck. The average is 23-42 per square foot.
Composite deck $30-$60 per square foot
Natural composite costs $23-$42 per square foot
Total cost ( approximately) $12,000-$24,000
Wood deck- More Classy

The most standard material of the deck is wood. But the wooden deck is so popular, though there have a lot of options. But the wooden deck needs to be treated in a year. Neither it can splint nor rotted. So if your choice is making a wooden deck, then prepare for yearly maintenance. Also, insects can harm the wooden deck. If you use high-quality wood material for your deck, you must spend $20 per square foot. If you can adequately maintain the wooden deck, then it remains for 30 years or more.
Wooden deck $20-$25
Total cost (approximately) $10,000-$17,000
Floating deck- Best for DIY
If you do not spend more on the labor cost, you make your own DIY. for a DIY deck. The floating material is the best. It will save you money, and if you be happy to make anything up on your own, it will be the best decision for you to make a DIY floating deck. Here we distinguish the cost of contractor and an own made floating deck.
A contractor charges $2090-$2500
Own DIY $710-$750 only
Vinyl deck- Affordable
The primary material of the vinyl deck is solid plywood. It is a maintenance-free and waterproof material for the deck. Vinyl material is also named PVC or polyvinyl chloride. It is a high-density plastic and won't be splintered ever. But the wrong of this material is that it does not give a natural look like wood or composite deck.
PVC vinyl decking $10-$15
Total cost ( Approximately) $600-$1,000
Final words

Sometimes people may be curious about the average cost of making a deck. So, at last, we hope you get an idea of how much money you have to count for a nice deck. It will be going to make your house more comfortable to build a deck around it. Put your tensions back, build an affordable deck. The cost of the deck which you spend will give you more satisfaction than money. If you are looking for Deck builders then contact us now and get a FREE quote.