Do you know about a deck-maintenance myth? People believe that after installing a deck, you won't have to bother about it for the rest of your life. However, the reality is that decks can be damaged fast if not properly cared for and maintained regularly. That is why you need to know all the basics of deck maintenance so that you can enjoy a beautiful outdoor living area with your family and friends. Contact Deck Builders In Dayton Ohio for any kind of deck maintenance. Here are some tips you can follow: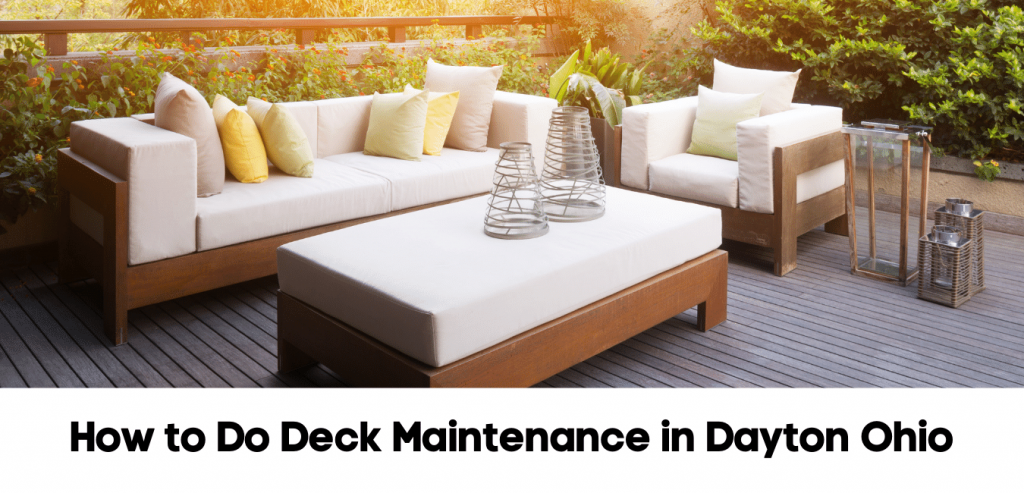 Prepare your deck for cleaning
Sweeping and removing all debris from your deck is the first step. Then clean the deck well to eliminate the majority of the dust and grime. Check the deck panels for any rot or missing boards and look for indications of decay. Check for any loose screws or nails and replace them if necessary.
Clean your deck properly
After prepping the deck, use a garden hose to gently wash it and the surrounding shrubs. Don't forget to safeguard your hands by wearing gloves. Then make a batch of cleaner, but read the label carefully before doing so. Make sure you don't use any chlorine bleach for cleaning the deck as it is very harmful. Apply the cleaner with a roller, sprayer, or bucket and brush. Keep the deck moist when cleaning to aid the cleaner's effectiveness. Allow 15 to 20 minutes for the cleaner to dry.
Stain your deck
Apply a stain-blocking oil or alkyd primer to your deck before staining it. A strongly pigmented stain is not ideal for decking since it exhibits wear patterns and may flake.
Sand your deck before sealing
After the area has dried, gently sand the surface to eliminate any splintered or fuzzy spots created by pressure-washing the deck. The deck should then be sealed to prevent cracking, cupping, and warping. Sealants are available in both water-based and oil-based formulations. A high-quality sealer will include UV radiation protection to prevent the sun's harmful effects.
Inspect your deck once a year
Once a year, you should inspect your deck. You should look for split or rotting wood, rusted or missing fasteners, sagging railings, and excessive wobbling. If you find any damage, call professionals to resolve the problem.
If you follow these basic procedures, you will be able to properly maintain your deck and keep it in good shape for years. However, if you find yourself in an inescapable condition, don't hesitate to ask for professional help. A well-maintained deck can increase the resale value of your house. Also contact Deck Builders In Dayton Ohio for any types of deck installation, repair and maintenance service in Dayton Ohio.